Bed Bugs Can More Than Bite! They Can Bleed You!
By Jeff Lipman and Dr. Stuart Mitchell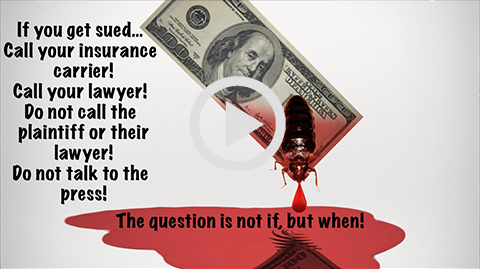 Bed bug lawsuits are on the rise. Never before has the pest management industry been involved in such potentially damaging litigation.
To bring lawsuits, plaintiff attorneys look at whether a property manager is liable. Bed bug presence in and of itself does not give rise to liability. Three elements must be determined: whether there was adequate inspection, adequate warning and adequate repair. If these three elements were not present, then liability may exist.
If a lawsuit results, one way pest management professionals can be drawn in is through cross-claims. Documentation is essential to be reasonably protected.
One potentially critical part of a lawsuit is the deposition. There are essential do's and don'ts to practice in a deposition. A deposition can be a demolition!
In this video, learn a few practices to be protected. Bed bugs can more than bite! They can bleed you!
---
Stuart Mitchell, D.O., is a board-certified family practitioner and entomologist and regular contributor to Pest Management Professional's Direct to You series.
PMP's Direct To You provides pest management professionals with educational refreshers on timely and critical topics essential to operational success. This content is not be used as a substitute for obtaining legal advice from an attorney licensed to practice where you live. Look for the content-rich PMP Direct To You archives at mypmp.net/direct-to-you-archive.
This newsletter was produced by North Coast Media's content marketing staff in collaboration with Control Solutions Inc.
---
Video: © Insider Exclusive
Photos: ©PestWest; ©istock.com/bestdesigns/Minerva Studio